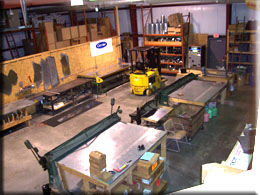 Schneiss Heating & Air Conditioning, Inc. was founded in 1992 by Jay D. Schneiss, President. Jay believes that honesty and quality will go a long way. Jay used his last name for his company name because of the reputation, integrity, and the pride that came from his grandfather Carl, and his father Paul Schneiss. Both his grandfather and father had businesses in West Bend and they always treated people honestly and fairly. They always took pride in what they did, and Jay continues his business with the same philosophy.
Jay has lived in West Bend his whole life. He plans to stay there and have his company continue growing. Jay started his company with two employees, and now has seven. Jay enjoys meeting people and so he enjoys one of his many positions, sales. There are many heating and air conditioning products on the market today, but Schneiss Heating and Air Conditioning only installs Carrier® when it comes to gas furnaces and air conditioners. Jay believes these are the best on the market. We also carry products such as oil furnaces, air handlers, and boilers.
At Schneiss Heating & Air Conditioning we take pride in our great service and workmanship. Our installation and service technicians are factory trained. Special care is taken to protect your home.